ELAU Çözümlerimiz
Controller and PC based controls
Decentralized servo drives
- Servomotor with MotorController in switching cabinet technology
- Servomotor with integrated electronics
Decentralized field bus units from the market
Decentralized frequency converters from the market
HMIs and OPs with and without intelligence from the market
Automation toolkit EPAS-4
Motion toolkit ECAM-4
VarioCam ® motion control and PLC libraries
IEC 61131 PLC and motion control runtime software
world class sales and system consulting
practical training
intensive application support
extensive and simple tools
quick support in commissioning
 
The first truly integrated automation architecture
PacDrive integrates motion, logic, programmable limit switches, temperature control, even robotic kinematics in software.

With PacDrive, there are no performance-degrading add-on hardware modules, backplanes or software handshaking. Centralized control assures the fastest possible response times and servo axis counts.

PacDrive can handle your most ambitious throughput and changeover requirements -- with power left over to serve up MES data, synchronize your line, and perform efficiency monitoring.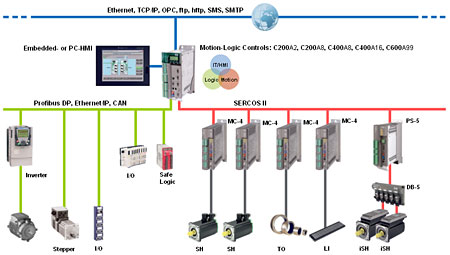 Enlarge Image

We're changing the way machinery works

ELAU is credited with enabling the development of Generation 3 packaging machinery* with its 1998 introduction of PacDrive™.

The PacDrive system replaces mechanical drivetrains with a fully integrated automation controller, digital servo drives and intelligent motors, and human machine interface (HMI).

PacDrive also replaces the functionalities of many discrete controllers in one software application running on a robust Pentium Mobile industrial processor.
PacDrive is eminently scalable. Our fastest controller can run up to 99 axes and thousands of I/O. Our smallest makes servo affordable for the most price sensitive machine.

*Ask for your free copy of the ARC Advisory Group report, Paving the Way for Generation 3 Packaging Machinery.

All the benefits of international standards

PacDrive adheres to the principles of OMAC's Plug-and-Pack™ Guidelines* and all relevant industry standards.

Standards mean you can learn a skill once instead of relearning how to do the same task every time you use a different control system. And they make it easier to leverage the best technologies on the market.

We believe standards should be embraced. They stimulate competition for your business on the basis of performance and innovation.
IEC conforming motion and device networks
IEC 61131-3 compliant programming
Ethernet, Internet and Microsoft connectivity
Built-in OPC and Web server
UL, cUL and CE